Aromatherapy inhalers - also sometimes known as essential oil inhalers or aromasticks - are a small tube containing a wick which has been soaked in essential oils.
Not all inhalers are created equal. The therapeutic benefits of a true aromatherapy inhaler far outweigh those of inhalers made from synthetic ingredients, which is something you'll want to consider when deciding what you want to inhale. You'll also want to consider the quality of essential oils used, even when buying a genuine aromatherapy inhaler. If you know a bit about aromatherapy you'll know there are some beautiful quality essential oils out there, and also a lot of low-grade oils. If you're wanting an inhaler which is good for you and does what it claims to, you'll need to find one with top-quality essential oils in it. Price can be an indicator, but doesn't always guarantee you're buying the best quality. Look at the label on the product - high quality aromatherapy inhalers should have botanical names listed, along with an expiry date and will be in an opaque (or coloured glass) tube, in order to protect the essential oils in it.
Then there's the tube itself to consider.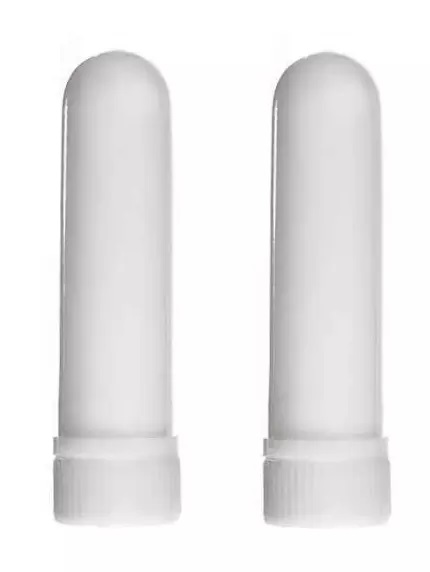 The majority are plastic like the ones in the image above, and are single use - some are difficult to pull apart, and you'll also find the oils will leach into the the plastic and taint it, making it unsuitable for use with different essential oils and blends.
There are also glass/aluminium inhalers, as in the image below. The lid, top and base of the casing are aluminium, and there's a glass tube inside, which holds a cotton wick soaked with oils - generally these inhalers have a tiny insert of plastic inside the top, to enable it to screw onto the glass bottom. These are much more elegant than the plastic ones, come in a range of colours and are totally reusable, if you're prepared to give them a wash every now and then, or when you want to switch blends. Usually these come with spare wicks, which makes reusing them even easier. They're more expensive than their plastic counterpart, but when you weigh that against the natural ingredients, health benefits, not having to re-purchase often, no plastic going to landfill and how nice they look, it's well worth paying a bit more at the start.
Aromatherapy inhalers are a very handy portable method of using your essential oils to help ease stress and lift the mood, prevent sickness, soothe symptoms of a range of ailments, and keep you focused. This is ideal when you're out and can't use a diffuser or other methods you'd usually use at home.
They're helpful for a wide range of ailments - containing your choice of essential oil or blend, they can clear sinuses, prevent and relieve symptoms of colds, coughs and flu, ease anxiety, depression, stress, headaches and insomnia, and assist with clarity of mind, and more.
Another great benefit is they enable you to use your essential oils without forcing them on other people - we're all different, so an oil or blend which you love and benefit from can leave another person with headaches, allergies or a churning stomach.
They're small and light, which makes them perfect to pop in your bag. As with other natural products, make sure you don't leave them in the sun or heated rooms; this includes when it's in your handbag, as this will age the oils prematurely.
Glass and aluminium inhalers are so elegant you'll love using them.
Think our glass and aluminium aromatherapy inhalers are beautiful and would suit your needs? Order yourself one of these stylish inhalers, with a blend of your choice. Can't find one you like? Drop us a line to request something different.
Read about blends and oils you can have added to your inhaler in our Product and Essential Oil Profiles - more profiles are being added regularly; let us know if there's a particular one you'd like to see.