Deodorants allow you to sweat, while antiperspirants prevent or reduce perspiration by blocking the sweat glands. Which is right for your needs? Read on to learn more so you can make the best decision for yourself.
Deodorants work by allowing the body to function as it should, but kill the bacteria which causes body odour. There are many plant-based deodorants available, some contain sodium bicarbonate/baking soda and other ingredients which can irritate the skin, while some use different naturally derived ingredients such as zinc oxide and kaolin clay which still deodorise but are much gentler on the skin.
The ingredient used to block the sweat glands in antiperspirants is aluminium and these along with mainstream deodorants also usually contain a range of other synthetic ingredients. There has been much discussion about the safety of these ingredients, so this is worth considering when you make your decision. Aside from this are also the issues of irritation for those with sensitivities caused by the use of synthetic products, and the use of synthetic ingredients.
We're all different with different needs, and at the end of the day you have to decide for yourself which is the right product for you, so it's best to do your research so you can make an informed decision.
Mainstream deodorants and antiperspirants generally come as either a roll on or spray product. Natural deodorants can be found in stick form, roll on, sprays or in jars for application with the fingers. These can be difficult or messy to apply, and depending which brand you choose they're not always effective, or can irritate the skin. That said, most natural options contain a number of ingredients which are soothing and nourishing for the skin and smell great while doing their job.
Trying products is the only way to know what suits your needs, and there are a lot to choose from. Thinking about the above pros and cons should help you to decide.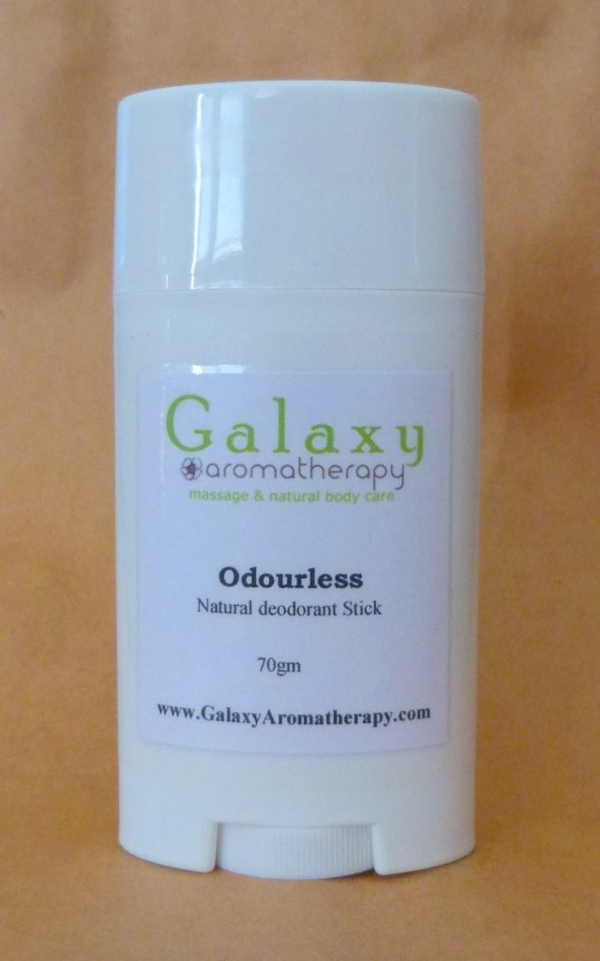 Haven't found a natural deodorant you like, or want to switch from synthetic products?
Try Odourless, our natural deodorant stick. Containing shea butter, cocoa butter, zinc oxide (non-nano/micronised), kaolin clay, beeswax and bergamot, cypress, East Cape manuka and geranium bourbon essential oils, it's gentle on the skin and smells great. Odourless is silky smooth and glides on easily even when used at sub-zero temperatures. You'll only need a few gentle swipes to get a good application, but can apply a couple more before exercising/physical work for extra protection. Safe for use straight after shaving or if you have sensitivities, it's in a BPA free plastic twist tube, making application clean and easy - just turn the dial when you need more. A 30gm tube should last you 2 months with normal daily use.

Odourless acts as a deodorant, to fight the bacteria which causes body odour, allowing you to sweat. Sweat is one of the body's ways of getting rid of toxins, and helps to keep you cool. Support your body to function normally and stay fresh and comfortable all day long with Odourless.
Join our mailing list and as a thank you you'll receive free NZ shipping on any web order over $15.